Description
EZ-GO 36v PDS Series Electric

Golf Carts w/ Charger & Plow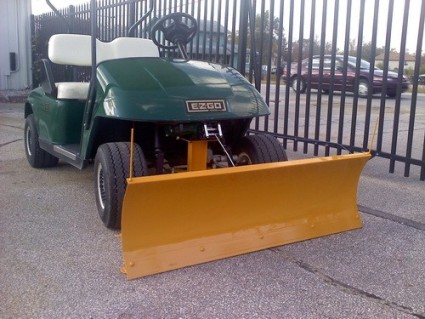 In the winter, Plow the snow off your driveway, walkway, and even streets quickly and comfortably when you have a snow plow installed on your golf cart. Why push a snow blower when you can ride a golf cart? Be the envy of your neighborhood as you sit in comfort on your golf cart clearing your driveway and sidewalks while others push a heavy snow blower! Pretty soon your neighbors will ask you to plow their driveways….the snow plow will pay for itself in no time! Hey, maybe look at getting a propane heater and a good enclosure to keep you warm while doing it!

ORDER ONLINE NOW OR
CALL 1-866-606-3991

Ad Reference ID: 9375362a7bf113b7
GolfCartCityOnline.com is NOT the seller and we are NOT involved in any transaction, and do NOT offer any payment or escrow services. Verify the advertiser before you send any goods or money, and read our buyer/seller tips
here
. If you suspect a scam, please notify us quoting the above Ad Reference ID.
Save this Ad
:
EZ-GO 36v PDS Series Electric Golf Cart w/ Charger & Plow
Save this Ad to your Watch List
* Cookies must be enabled for this feature