Description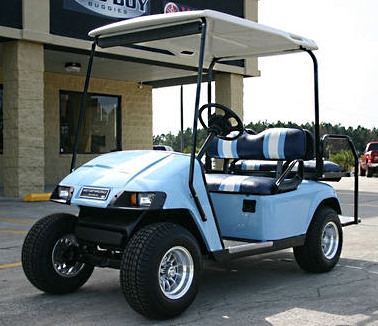 This 20

09 EZGO Pds 36v Baby Blue Electric Golf Cart is completely refurbished. This golf cart is not lifted but with the custom 10 inch tires and rims it appears t

o have a bit of a lift. The tires and rims are brand new. We strip these refurbished carts down to the frame and then paint and powder coat all the frames. We check every component and part and replace any worn or broken parts with brand new parts. The body is painted using the same process as with an automobile and has an automotive clear coat applied giving it a completely brand new look.

ORDER ONLINE NOW OR
CALL 1-866-606-3991

Ad Reference ID: 1045363d7d5c336b
GolfCartCityOnline.com is NOT the seller and we are NOT involved in any transaction, and do NOT offer any payment or escrow services. Verify the advertiser before you send any goods or money, and read our buyer/seller tips
here
. If you suspect a scam, please notify us quoting the above Ad Reference ID.
Save this Ad
:
EZGO Pds 36v Baby Blue Electric Golf Cart
Save this Ad to your Watch List
* Cookies must be enabled for this feature